Alex Joganic - Q&A
Alex Joganic is a name you may just know by now. One of our long time collaborators, Alex is a well rounded hand-lettering artist, typeface creator and graphic designer. We were lucky enough to have him do a short Q & A with us for a look into his world – Enjoy!
Tell us a little a bit about yourself!
My name is Alex Joganic and I am a graphic artist! I have a real passion for lettering and typography. I was into hand-lettering way before hand-lettering got really popular, granted I was absolutely terrible starting out.
When I first got into hand-lettering I didn't know about graphic design, nor did I think about "hand lettering" as an actual career. I have been drawing literally my entire life, so the transition into design wasn't difficult for me.
I would sketch letters all the time, literally. It started with random inspirational quotes, and it kept growing! I would sketch everyday, and do random tutorials on youtube or pick up random library books. (this was all happening before Skillshare).
A friend asked me to create a tattoo for her, and for a short time I thought I was going to be a tattoo artist. During this time I really started to learn all that I could about art- which led me to learning Illustrator. All that to say "Art" and my ability to constantly create is what drives me onward. I really want to create things that will last well after I'm gone.
What is something you do every single day, design related or otherwise?
Well my day usually begins with coffee, I was a barista for about 4 years (but only a real barista for 1 year). Yes, I worked at a Starbucks (I don't think that is actually barista-ing, nothing against any Starbucks partners though!) I worked at Octane Coffee, a specialty coffee shop in Birmingham, Alabama. All that to say, my days always start with a coffee, usually a cold-brew coffee.
How do you make a living in the design industry? Do you have a specialty you have become known for?
Currently I have a full-time job designing emails. I run a small business called 1871 Project with my beautiful wife, and I work on freelance/font stuff as much as time allows! I always try to work on new things and learn as much as I can. People know me through my hand lettering/typography based design work.
Which online audiences have given you the biggest boost in sales, revenue, etc?
I would say Instagram has played a huge role in my career! I started getting random followers who I suppose wanted to keep up with me during "Inktober." I would spend 8+ hours on hand lettering many days out of the month. At the time I was full-time freelance so the idea of getting to create a piece of lettering every day really got me going. My hand-lettering ability and design skills matured and I was stoked to begin.
It was during this time that I began to develop my own style and ideas for hand-lettering. I took the opportunity to make people in my community basically aware of each other, by doing pieces dedicated to local businesses and landmarks. Then other companies began reaching out and asking about getting pieces created, people really started engaging! Instagram is such a powerful tool, so if your not using it you totally should!
Has anything surprised you about the creative industry in a good way or a bad way?
Im surprised a lot actually, the creative industry is full of so much talent!
What is sort of changing about the creative industry is the amount of resources that are at your disposal. Skillshare is soooo so full of creative insight. I have learned most of what I know from Skillshare, and it has made me the designer I am today!
I feel like because I didn't go to College, people seem to look down on me or think that I can't do something- but I assure you, I totally can! I can sense that this is changing…and in a few years i'm sure there will be even more resources to advance and grow as a designer.
If you had an apprentice, what advice would you give them to set them up to win in this industry?
I would encourage them to actually learn, everyday. Also to keep things simple (learned that the hard way) and stay relevant. Listen to your clients and create something everyday.
Also, enjoy yourself, don't just force yourself to learn something you don't want to learn, do it because you actually want to. Just constantly create to keep things fresh, and if you can't think of anything to work on then start a passion project so you can work on stuff for yourself.
Its seriously a super rewarding process to create things that you love, and to see people actually get into it!
Which pieces are you most proud of within your portfolio?
1871 Project
The 1871 Project is a project I started up with my wife to basically promote my city. I have a ton of love for a little place called Birmingham, Alabama. The people are incredible, the food is incredible, the coffee is incredible, haha you get the picture.
Everything about the 1871 project has to do with Birmingham and its rich history. I really wanted to learn how to screen print and, obviously, designing t-shirts is killer! Its been steadily growing ever since we started around this time last year.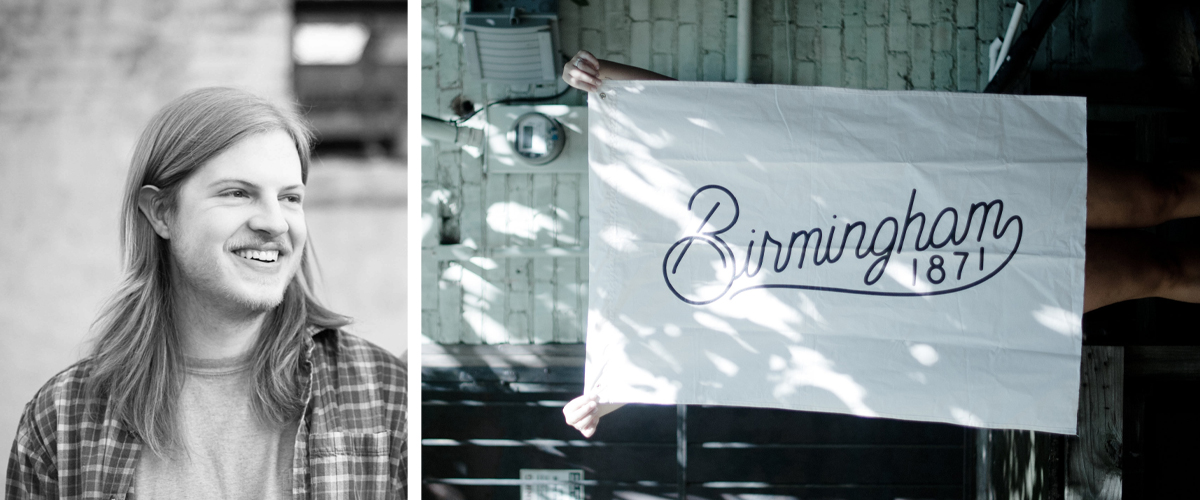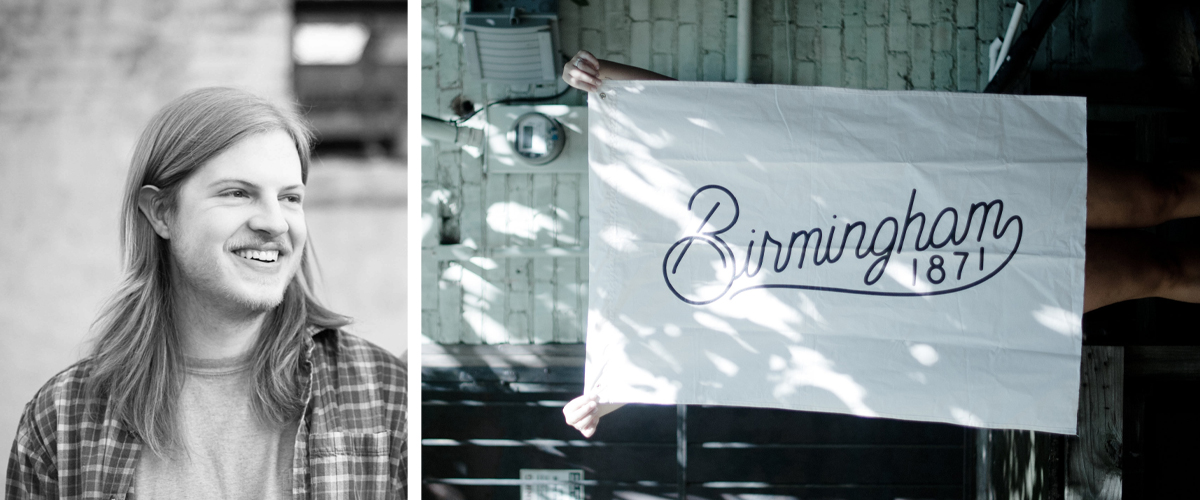 WHFM
Im mostly proud of this piece because of all the traffic it got. Also it was actually the "birth" of my font "Fernweh"
Jeremy Moore
Im mostly proud of this piece because of all the creativity that went into it. The music is well written and sounds incredible. I got to collaborate with one of my good friends, Hilary Duke (hilaryduke.com) who took pictures for the album. She is a really great friend and an absolutely incredible photographer, look her up!
Lettering
I absolutely love lettering/letters, so I'm really proud of my hand lettering pieces. I really enjoy when clients ask for lettering specifically. It doesn't happen all the time but when it does both the client and myself are in for a huge treat!
Huge thanks to Alex for taking the time to chat -> Here's where you can find him online!
We're super excited to announce an upcoming collaboration with Alex Joganic & Hustle Supply Co. on what we think is our best free design product yet. Stay tuned!