The Massive Vintage Font Bundle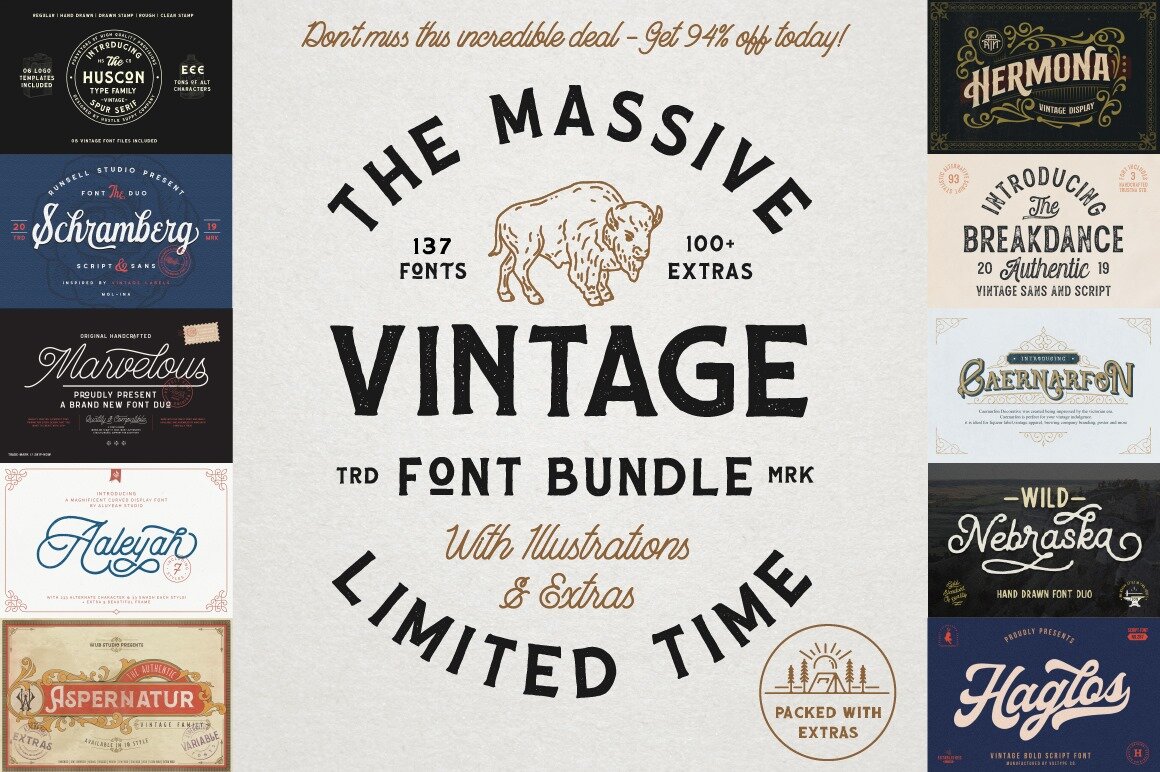 The Massive Vintage Font Bundle
Introducing The Massive Vintage Font Bundle
One of our most popular aesthetics is back as we've collected 29 top selling vintage typefaces. This deal is packed with value as it includes 137 fonts of all styles and textures, plus bonus graphics, illustrations & logo templates!
Save over 94% off retail for a limited time only and be ready for your next vintage design project
(Expires Dec. 15th, 2019)
As always, this deal is covered by the Pixel Surplus Extended License which includes use in unlimited commercial projects. If you need more information, just send us an email at hello@pixelsurplus.com
Products Included:
Huscon - Hustle Supply Co.
Bookman - Redy Studio

Breakdance - Trustha

Berson - 160 Studio

Gold Coast - Craft Supply Co

Wild Nebraska - Larin Type Co.

Marvelous - Any Type

Caernarfon - Pixel Surplus

Haglos - Vultype

Hermona - Arterfak Project

Aaleyah - Aluyeah Studio

Perfectly Imperfect - 50Fox

Verveda - Angin Studio

Salveation - Runsell Studio

Schramberg - Runsell Studio

Aspuratur - WUB Studio

ChiQuel - 38 Lineart

Northern - Angin Studio

Dirt & Vines - Jonathan Waterworth

Brewhaus - Milliangelo

Hemisphers - Runsell Studio

Mequin - Musan

Page Imperial - Graphic Bandits - Lance

Old Bridges - Vultype

Brewisten - Martype

Babylonia - Fateh Lab

Hypebeast - Creatype

Madison - Fateh Lab

Brasham - Sabrcreative
Save an even more with our other great bundles.
All prices in USD